YOUR STORY MATTERS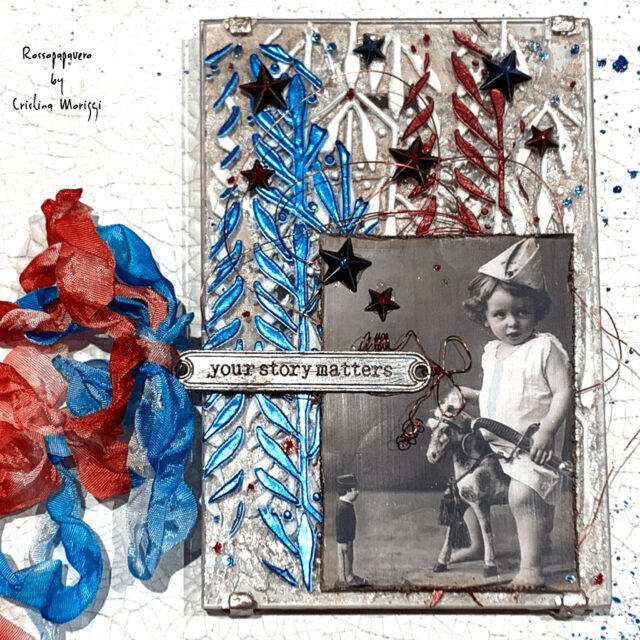 Ciao amici creativi,
oggi sono qui per presentarvi il mio progetto come Guest Design di  Giugno per Art Recipe di Finnabair.
Un grande onore e divertimento nel seguire gli ingredienti e i colori della ricetta richiesti per questo Challenge che potete trovare direttamente qui sul blog di Finnabair.
Ho utilizzato  per il mio biglietto di auguri molto speciale la base e i vetri di una cornice per foto in plexiglass e ho incominciato a creare il mio background usando uno stencil e i Metallique Acrilyc Paint di Finnabair.
Per incollare la foto prescelta e i vari abbellimenti in metallo ho usato la super colla Heavy Body Gel sempre della linea prodotta dalla Primamarketing per Finnabair e ho poi colorato con i colori richiesti il blu, il rosso e il bianco il mio nastro che ho inserito a lato del quadretto.
Hello everyone, it is a great pleasure for me to be a guest here for this month with my project.
I used as a base a photo frame with two glasses on which I made a background using a stencil and the Paper paste on the first glass base, on the second instead with the same stencil instead I used Metallique Acrilyc Paint in the three varied colors required by the Art Recipe Challenge .
Finally, I applied the photo with a Heavy Body Gel and a metal label on which I then inserted fabric ribbons always colored with Acrilyc paint and spray water.
I will give this project to a special person who turns years in these days and I hope it will be a source of inspiration for your creativity.
Thank you so much for this great opportunity and I hope to have fun again soon with all of you!